Commercial Real Estate
Residential Real Estate
Municipal Law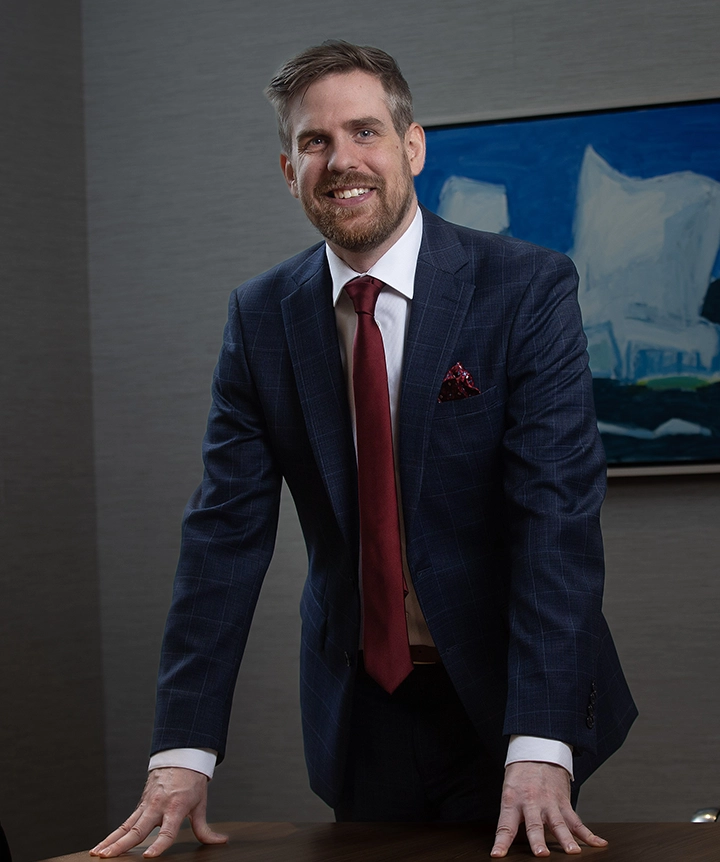 Scott Lennox, partner at Massey LLP, is a dedicated and experienced commercial real estate lawyer with a comprehensive understanding of the legal complexities of commercial property transactions. He provides valuable counsel to real estate developers and investors, navigating their commercial real estate deals ensuring favourable outcomes.
In addition to his busy commercial real estate practice, Scott also practises residential real estate, serving as a trusted advocate for clients involved in buying or selling homes. By providing personalized attention and meticulous attention to detail, Scott ensures that clients' interests are protected, and their transactions proceed smoothly. He focuses on serving the needs of high-net-worth buyers in Toronto and beyond, with property values of $2.5M and above.
Scott also delivers for his clients dealing with municipal law matters and achieving their goals within the framework of local regulations.
Unique Skills and Attributes
With a distinctive combination of knowledge and dedication, Scott is well-equipped to provide capable counsel to clients in commercial real estate matters, focusing on 60-to-100-unit condo complexes.
When working with commercial real estate developers Scott is known for taking the time to answer all questions about the process and he won't push clients to do unnecessary legal work. He prides himself in following the philosophy of taking the most efficient path to the right result. Clients describe him as tenacious – but still likeable.
Scott also works with planners and architects who work for commercial real estate developers, and real estate brokers for land purchases. He advocates for and preserves the rights of commercial real estate clients, such as by not infringing on land or boundary issues, or easements.
He is experienced in dealing with the challenges of Development Charges (DCs) – fees fixed by the municipality to help cover infrastructure costs – with a focus on expedited negotiations and maximizing returns for developers. Most of this work is in section 37 of the provincial Planning Act (PA) which, for example, can be expedited by giving community space to the municipality. Scott knows developers want high density, so they realize a greater return on projects.
In his residential real estate practice Scott prides himself on providing personal service and proactive advice to keep residential transactions on track. For sellers, Scott protects their interests on such matters like if the buyer is unable to secure a mortgage. For buyers, he protects their interests to avoid bridge financing and other extra charges which can add up and cause a lot of unnecessary stress.
In his municipal law practice, Scott is proficient in handling zoning issues, Committee of Adjustment applications, and bylaw challenges. He is also experienced in work order and building permit applications within the City of Toronto.
Prior to becoming a partner at Massey LLP, Scott was a partner at Lemke Law PC. Prior to that he was assistant vice president of acquisitions at Trinity Development Group gaining valuable insights into the commercial real estate landscape.
Professional Associations
Scott is a member of the Canadian Bar Association (CBA), the Ontario Bar Association (OBA) and the Law Society of Ontario (LSO).
Education
Scott earned a Juris Doctor (JD) degree from the Schulich School of Law at Dalhousie University in 2012.
He earned an MBA from Dalhousie University in 2009.
Scott is a graduate of the University of Guelph with a Bachelor of Arts in environmental economics and policy in 2007.
Scott was called to the Bar of Ontario in 2013.
Personal Stuff
Scott likes to wear Hawaiian shirts even though he frequently visits the Caribbean with his family.
You'll find the Toronto lawyers at Massey LLP are friendly, compassionate, and committed to delivering timely, practical, and cost‐effective legal services.