Work: +1 (416) 775-0675
Office fax: +1 647 494 9886
10 King St. E., Suite 600
Toronto Ontario M5C 1C3
Canada
Business Law
Civil Litigation & Commercial Litigation
Entertainment Law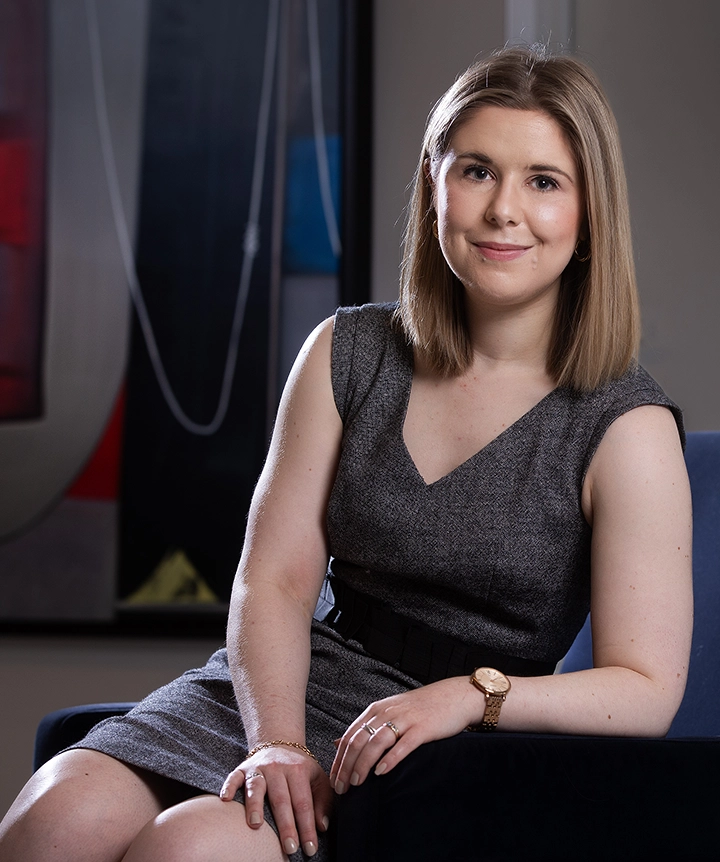 Emma Chapple, an associate at Massey LLP, brings a unique blend of skill and a no-nonsense approach to her legal practice. With a focus on civil/commercial litigation, entertainment, and business law, Emma is a dedicated and talented legal professional.
Unique Skills and Attributes
What sets Emma apart is her background in journalism, which infuses her legal practice with a fresh perspective. Her journalistic sensibilities contribute to her strong research and writing skills, enabling her to tackle complex legal issues with precision and clarity. Emma has never been accused of trying to hide behind obtuse legal writing and obscure legal jargon! Quite the contrary, actually. Emma's ability to distill information and present it effectively makes her a compelling advocate in the courtroom, too.
As an effective communicator, Emma is known for her to-the-point approach. She excels at clearly conveying information, ensuring that her clients and colleagues understand the intricacies of their cases. Emma's excellent oral advocacy ability further enhances her strength in presenting clients' positions persuasively in various settings.
Emma's educational background in entertainment law, privacy law, and international law adds depth and breadth to her practice.
Before joining Massey LLP Emma's journey in the legal field began as an articling student at a commercial litigation firm in Toronto's west end. During her tenure there, she gained valuable experience assisting with civil and commercial litigation cases, as well as handling corporate governance and compliance matters. Emma's attention to detail and strong research and writing skills proved instrumental in supporting the firm's clients.
Professional Associations
Beyond her professional accomplishments, Emma is an active member of legal associations including the Ontario Bar Association (OBA) and The Advocates' Society.
Emma believes in continuous professional growth and actively participates in seminars and events related to her practice areas.
Awards and Accolades
In 2016, she won the Schulich Scholarship awarded for academic achievement. In 2015, Emma was awarded the David Adams Richards Prize for Non-fiction based on excellence in writing non-fiction or creative non-fiction for the story "Life as a Lemon," a personal narrative about living with a chronic illness.
Her community involvement includes serving on the communications committee for the Women's Law Association of Ontario.
Education
Emma earned a Juris Doctor (J.D.) degree in 2019 from the Schulich School of Law at Dalhousie University, where she honed her legal skills.
A graduate of St. Thomas University with a Bachelor of Arts (Journalism) in 2016, Emma had the opportunity to study at the Donald E. Biederman Entertainment & Media Law Institute during an exchange term at Southwestern Law School in Los Angeles, California as part of her legal education.
Emma was admitted to the Bar of Ontario in 2020.
Personal Stuff
Outside of work, Emma indulges her passions and interests. She enjoys attending year-round screenings at the Toronto International Film Festival (TIFF) and has a keen interest in writing, including fashion blogging. Additionally, as a dual citizen of the U.K., Emma is always planning her next travel adventure, often to European destinations. Paris is always a good idea!
With her diverse skill set, dedication to her clients, and passion for the law, Emma Chapple is an asset to the legal community, and a trusted advocate for her clients at Massey Law. She adds unique bench strength to the firm.
You'll find the Toronto lawyers at Massey LLP are friendly, compassionate, and committed to delivering timely, practical, and cost‐effective legal services.